Pray!
We believe that prayer is powerful. Join with us in praying for Andy and Alex, for their safety, for their strength and their return, for all of the Ukrainian people, that the hearts of their captors may be changed, and for PEACE!

Leave a prayer, comforting thoughts, well wishes, or a message on our Prayer Wall page, for us, and for Alex and Andy to read when they return home. Keep them in your thoughts and say their names! It is so encouraging to us to know that our brothers and sisters all over the world are joining us in prayer, and we know that Andy and Alex will feel the power of those prayers as well.


Get in touch with your elected officials
Call your Senators and Representatives and say: "Hello, I'm calling about Andy Huynh ("When") and Alex Drueke ("Drew-key"), U.S. citizens who are Russian-held POWs. I'm asking you to make sure our government stays the course and does everything possible to secure their safety and their release. Thank you!"
Share this information with your friends
Help us to keep Andy's and Alex's names out there! Share on your social media, add them to your church's prayer list, send your friends and loved ones to this site, and order and wear our beautiful advocacy buttons! On the order page, you can also find a downloadable file for flyers that you can print out on your own, to share. The more people we reach, the better for Andy and Alex.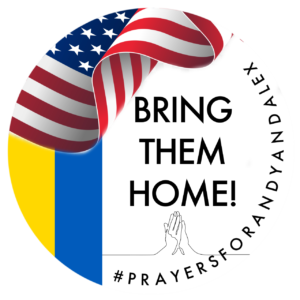 Attend Our Advocacy Events!
For the latest information on various events that we have planned, please visit our News page.
Latest News
Have ideas to share with us, or want to organize an event of your own? We would love to help! Use our Contact form to reach us.